My first book, A Year With Symfony, has been available since September 4th last year. That's not even six months ago, but right now it has almost 800 readers already (digital and printed edition combined).
During the past few days I've taken the time to write an extra chapter for the book. Consider it as a big thank you to everybody who bought the book! I feel very much supported by the Symfony/PHP community and this really keeps me going.
Annotations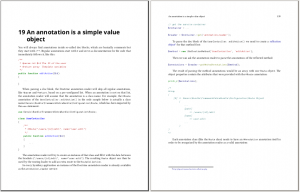 The bonus chapter is about annotations and how you can use them to control the flow of a Symfony application. It is a subject I've written about some time ago, but this time I discuss many more details and different approaches.
Digital edition
If you have bought the digital edition from the Leanpub website you can just download an updated version of the book.
Paper edition
Within a couple of days, newly printed books will also have the bonus chapter.
If you have already bought the paper edition on the Lulu website I can send you a PDF/MOBI/EPUB file containing just the new chapter. Please send a mail with your request to matthiasnoback@gmail.com. In your mail, please mention your order number and the order date.
Un Año Con Symfony
The Spanish translation of the new chapter is not yet finished. If you've bought that book, you will be notified automatically when it is available.
Thanks for helping
The new release of the book contains many small fixes of typos and syntax problems that were reported by John Nickell, Rodrigo Rigotti, Andras Ratz, Rémy Gazelot, Piotr Kędra, Dorian Villet, Greg Szczotka, Pera Jovic, Sebastian Blum and Rolf Babijn. Thank you for that!
Also, the new chapter has been proof-read by a former co-worker - Matthijs van Rietschoten - and by the translator of the Spanish edition of "A Year With Symfony" - Luis Cordova. Thanks to you too!